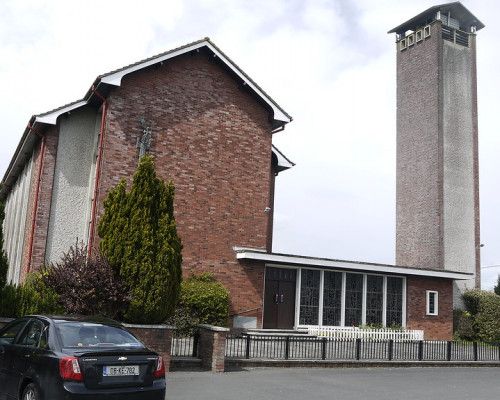 | | |
| --- | --- |
| Saturday Vigil | 6:30 PM |
| Sunday | 8:30 AM |
| Monday - Friday | 9:00 AM |
THE PARISH OF COOLERAGH and STAPLESTOWN WAS FORMED IN DECEMBER 1971, AND HAS PREVIOUSLY BEEN PART OF CLANE
Christ the King Cooleragh
DATE OF CHURCH: 1962
ARCHITECT:A. LARDNER & ASSOCIATES
BUILDER: JAMES GERAGHTY, CELBRIDGE BUILDING
PASTOR: FR. JOHN DOYLE P.P.
SEATING: 500
COOLERAGH (Cul Ri, KING'S CORNER). WHERE 'REE' FORMS PART OF A NAME IT GENERALLY MEANS THAT THE PLACE WAS CONNECTED WITH SOME GOVERNMENT INSTITUTION OR PERSON.
THE PEOPLE OF COILL DUBH attended service at a temporary oratory at a pipe factory in the Bord na Mona camp at Timahoe until the church Christ the King at Cooleragh was completed.
The site for the church was donated by Mr. Robin Cusack. The churches built in modern style and is simple but very dignified. It is a portal framed structure with a concrete tiled roof and exposed block work as an internal feature. It has a plain marble altar and a tabernacle of marble and bronze A large baldacchino hangs over the altar. Stained-glass windows depict St. Brigid and St Conleth (Patron St of the Diocese) and St. Patrick. On the Gospel side, at the entrance to the choir gallery, is a 30ft. by 7ft. stained-glass windows depicting each of the twelve apostles. The sanctuary has a 30ft. by 10ft. window depicting Christ the King. The Stations of the Cross are made of broken stained-glass clippings and arranged in mosaic form.
On the day of opening, Mgr. James J. Conway P.P., V.G., commented that "this is a lovely church, modern yet devotional artistic but not bizarre". The sanctuary was re-ordered about 1970.